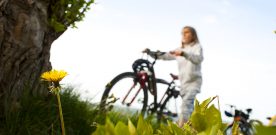 Af Klaus Bondam, direktør Cyklistforbundet
Da den amerikanske transportminister Anthony Foxx besøgte Danmark i april, var han den første amerikanske minister, der kom til Danmark i denne præsidentperiode. Og det var ikke blot en høflighedsvisit, da den øverst ansvarlige for det amerikanske transportsystem landede i København med borgmestre fra tre amerikanske byer og en hær af embedsmænd.
Ministeren ville høre om, hvordan Danmark er blevet en førende cykelnation, og han bad personligt om, at den første dag blev brugt på en guidet cykeltur i København og oplæg om cykling. Det var med stor glæde, jeg tog imod invitationen til at cykle med transportminister Hans Christian Schmidt på turen og bl.a. fortælle den amerikanske delegation om, hvordan Danmark i anden halvdel af det 20. århundrede holdt fast i en stærk cykelkultur, mens andre lande gav slip og baserede deres mobilitet på personbilen.
I dag er Danmark verdenskendt for at have cykling solidt integreret i vores mobilitet og kultur, og det gjorde indtryk på den amerikanske minister at opleve fænomenet på tæt hold: It is fascinating to watch how the bicycle culture has really grabbed a hold of you, sagde Foxx under besøget. Den samme erkendelse sker i øjeblikket i byer verden over, hvor en cykelrevolution breder sig med den danske hverdagscykling som forbillede.
Når cykling er så integreret i Danmark, er det bl.a. fordi, innovative trafik- og byplanlæggere og politikere gennem årene har prioriteret og udviklet cykelløsninger i Danmark.  Vores viden efterspørges nu af beslutningstagere i byer verden over – og her ligger også et potentielt eksporteventyr for Danmark. Paris har afsat 150 mio. euro til at blive verdens bedste cykelby, i London sætter man over de næste ti år 913 mio. pund af til cykler og i Oslo er der projekter for 3,7 mia. NOK i byens nye cykelstrategi. Men knowhow'et er i Danmark, og det ser vi stigende efterspørgsel efter fx via Cycling Embassy of Denmark.
Artiklerne i dette cykelnummer af Trafik og Veje viser, hvor meget der på alle niveauer arbejdes på at udvikle, optimere og styrke cyklismen i Danmark: Hvordan afspærrer man bedst gravearbejder i København? Hvordan man får folk fra bil til elcykel i Beder Malling? Hvordan kan cyklister skabe liv og handel i jyske byer? Og hvad gavner det samfundet i kroner og øre, at vi får næste generation i sadlen? Og på den nationale cykelkonference, som i år kommer til Odense, vil cykeleksperter fra hele landet dele nyeste viden om, hvordan vi fremmer cykling i Danmark. Den årlige konference er et vigtigt led i vores fælles arbejde på at skabe nye løsninger og viden, der kan styrke dansk cykling.
Men historien om cykeldanmark er ikke kun det eventyr, omverdenen kender. Danmark har gennem de seneste årtier mistet momentet, og det nationale cykelindeks viste i 2015 igen et fald på 5 pct. Og det er ikke en ny tendens, for danskernes cykling ser ud til at have stabiliseret sig på et niveau, der ligger et godt stykke under niveauet i 90'erne, samtidig med at biltransporten stiger og overtager cykelandelen.
Den statslige cykelpulje fra 2009 har holdt hånden under udviklingen, og midtvejsevalueringen af puljen viser, hvor stor effekt det giver, når staten tager medansvar for cykling.  Cykelmilliarden var også et eksempel på, hvordan et bredt politisk flertal tog en modig, fremsynet beslutning, som vi i dag fortæller omverdenen om.
Transportminister Hans Christian Schmidt har dog sået tvivl om cykelpuljens fortsatte eksistens med henvisning til manglende økonomisk råderum. Men politik handler om prioritering! Når staten høster frugten af de sundheds- og mobilitetsgevinster, som cyklismen giver – for ikke at tale om dens enorme værdi for Danmarks omdømme – så bør staten også prioritere en cykelpulje, selvom konkurrencen om midlerne er hård.
Vi glæder os derfor til at høre mere om transportministerens udmelding om en ny tyveårsplan for cykellandet Danmark, som ministeren talte om på cykelkonferencen i Svendborg i marts. For det er nu vi skal prioritere cykling, hvis det også om tyve år skal være den danske transportminister, der viser udlandet, hvordan man skaber holdbare og innovative cykelløsninger.
Share
About Author