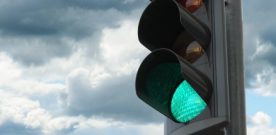 Paradoksernes tid
Af Michael Knørr Skov, Cowi
For 10 år siden var konklusionen på en konference om kommunalreformen, at transportsektoren er den stille dreng i klassen, som løser sine opgaver uden den store virak. Der var udsigt til færre midler til vejområdet, og hvordan skulle det hele gå, når kommuner og stat i fællesskab skulle overtage de ganske veldrevne amtsveje. Det måtte sektoren selv finde ud af – man har en tradition for at leve med de vilkår andre lægger til rette, og så får man det bedste ud af det. Transportsektoren har en stærk ansvarsfølelse, som vi alle kan være stolte af, og den har samtidig en formidabel evne til at effektivisere og til at holde en stabil kurs i tæt tåge. Selv i tider med stærkt begrænsede midler til planlægning og udvikling af morgendagens infrastruktur er sektoren i stand til at levere bedre trafiksikkerhed og afvikling af rekordstore trafikmængder. Det går imidlertid ikke altid lige hurtigt.
Trængslen er stigende, og bilisterne deler mange steder skæbne med passagererne i den kollektive trafik hvad angår ventetid og uforudsigelighed. Vores muligheder for at oppebære en høj mobilitet er af flere årsager under pres, og det kan potentielt skade vores muligheder for at have effektive økonomiske og sociale relationer. Det har aldrig været billigere at anskaffe sig en bil, og bilsalget har de senere år slået nye Danmarksrekorder. Den store efterspørgsel på vejtrafik står paradoksalt over for den manglende investeringsvilje i fortsat udvikling af infrastrukturen. Og dette mens erkendelsen af den høje produktivitets betydning for Danmarks økonomi breder sig fra et notat fra Finansministeriet. Vi lever højt på gradvist at udnytte tiden bedre til at være endnu mere effektive. En velfungerende infrastruktur er et godt sted at forebygge spildte ressourcer.
Men hvis troen på selvkørende biler og forestående digital disruption af hverdagen, som vi kender den, når en højde, hvor investeringslysten i velfungerende infrastruktur vakler, så er der stor risiko for, at vi fejler i at have grundpræmissen på plads for at kunne levere gods og tjenesteydelser og have effektiv pendling. Den ene store mulighed for at tage næste skridt ligger i både at arbejde med efterspørgslen på transport og på mere effektiv udnyttelse af infrastrukturen. Dette er stærkt hjulpet på vej af, at prisen på detektering og data er faldende, hvilket giver unik adgang til information om, hvordan transportsystemet bedst kan optimeres og fintunes til at understøtte både erhvervs- og privatlivets transporter. Digitale platforme gør det også nemmere at tilrettelægge transport – og at være fleksibel på transportmiddelvalg og styre uden om spidsbelastninger i de situationer, hvor det lader sig gøre. Vaner og myter kan afmonteres med langt større målrettethed og forbrugervenlighed i transportudbuddet. Den anden større mulighed er samtidig en absolut nødvendighed. Bedste bud er, at transportarbejdet vil fortsætte sin stigning – også hjulpet af selvkørende biler – og det kræver fortsat udbygning af infrastrukturen.
Så transportsektoren skal ud over at absorbere og udnytte morgendagens nye teknologi bevare sin evne til fortsat at levere en høj kvalitet af veje, pladser, stier, broer og tunneler. Den stille dreng i klassen er klar til at løfte begge muligheder – men der må gerne genfindes en investeringslyst hos vores politiske beslutningstagere, så der er ressourcer til løsningen.
Share
About Author