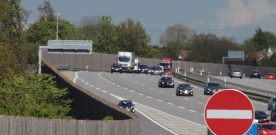 Vejen frem i en svær tid
Af Hans Christian Schmidt, Transportministeriet
Et velfungerende vejnet er afgørende for Danmarks udvikling. Det giver næsten sig selv. Det er en forudsætning for vækst og udvikling, at vi kan komme hurtigt og sikkert rundt i landet. Hvad enten det er virksomheden, der skal have varer ind eller ud, eller pendleren, der kan nå hurtigt og nemt på arbejde. Derfor er det også desto mere ærgerligt, at den tidligere regering i næsten fire år havde mere travlt med at se på den kollektive trafik end på vejene. Det har efterladt os i en svær situation.
Økonomien er kørt ud til grænsen, og rundt omkring i hele landet hungrer lokale efter vigtige vejprojekter, der kan sikre vækst og udvikling. Når jeg er rundt på besøg i landet, bliver jeg tit mødt med ønsker om gode vejprojekter, som jeg med glæde ville støtte. Vi har bare en økonomisk virkelighed, som vi ikke lige kan komme udenom alene med gode intentioner. Udfordrende tider som disse betyder til gengæld ikke, at man skal lade være med at kæmpe. Der er ingen grund til at sætte sig ned i et hjørne og surmule. Nu handler det om at skabe afklaring af økonomien. Vi skal se på, hvilke muligheder, der er for at sætte nye projekter i gang, og forhåbentlig er der grundlag for at igangsætte nye projekter, der kan gøre os rigere som samfund. Jeg er i den seneste tid blevet kritiseret for at være en glødende tilhænger af veje frem for kollektiv trafik. Det er en modsætning, jeg ikke ser. For mig handler det ikke om enten eller. Vi skal have en effektiv infrastruktur i balance med en velfungerende kollektiv trafik, et stærkt vejnet og gode luftfarts- og havneforbindelser. Men det er klart, at efter en periode, hvor vi har investeret milliarder i den kollektive trafik, så skal vi fremover have blikket skarpt rettet mod vejene. Vi skal se på, hvordan vi bedst muligt kan bevare den danske sammenhængskraft og dermed sørge for, at vi får skabt nye arbejdspladser.
Det betyder selvfølgelig, at vi skal se på, hvordan vejnettet kan udvides med ny asfalt. Men vi skal også se på, om det eksisterende vejnet kan udvikles med nye løsninger. Er der noget vi kan gøre for at forbedre mobiliteten? Kan vi udnytte pladsen på vejene bedre? De spørgsmål skal vi naturligvis blive ved med at arbejde med. Vi skal også hele tiden huske på, at sikkerheden på vejene har høj prioritet. 2015 blev endnu et år med et lavt antal trafikdræbte. Den positive udvikling skal vi fortsætte med, og det kræver en stærk og vedholdende indsats fra alle parter. Jeg ved, at der i branchen er en stor vilje til at arbejde med trafiksikkerhed, og det er i bogstaveligt forstand et livsnødvendigt arbejde. Så selv i en svær tid er der masser af arbejde omkring de danske veje. Det er derfor vigtigt, at vi hjælpes ad med at fremtidssikre den danske infrastruktur ved at skabe det bedst mulige vejnet med de nyeste og bedste løsninger. Det er vejen frem.
Share
About Author