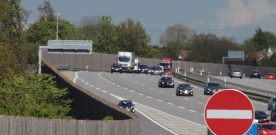 Af Henrik Harder, Sekretariatschef – VEJ-EU
VEJ-EU fejrer 40 års fødselsdag. Det er faktisk ganske unikt i en dansk og internationalt sammenhæng at have en brancheorienteret organisation, som varetager kompetenceudvikling i et tæt samarbejder med kunder og samarbejdspartnere. Der er derfor god grund til at ønske et meget stort og hjerteligt tillykke til dig og alle andre, der har deltaget i udviklingen af VEJ-EU; som kunde, bestyrelsesmedlem eller ansat fra 1976 og frem til i dag.
VEJ-EU's aktiviteter afspejler samfundets udvikling. Vores nationale og internationale samfund står over for helt andre udfordringer i dag end i 1976. Den korte og enkle version er, at vi er gået fra en situation, hvor vi primært opbyggede infrastruktur til vores samfund, til at vi nu ombygger og drifter vores samfund. Ombygningen omfatter fortsat nyanlæg. Men i dag er fokus i lige så høj grad på at løse de udfordringer, brugen og driften af vores infrastruktur rummer, og i den sammenhæng menes drift, i bredeste forstand. For aldrig har vi (personer og gods) bevæget os så meget. Aldrig har det været så billigt at bevæge sig for os, og aldrig har konsekvenserne af vores mobilitet (personer og gods) været så store, nationalt og internationalt.
Der er med andre ord, stadigvæk, meget store udfordringer, der skal løses på infrastrukturområdet. Udfordringer, som måske ikke er helt klart beskrevet af vores politikere endnu.
En af de helt store udfordringer for os i infrastrukturbranchen er teknologisk. Digitaliseringen og automatiseringen af infrastrukturen foregår lige foran øjnene på os. Dele af vores infrastruktur bliver selvkørende og selvtænkende og kan bringe os alle, børn og voksne eller gods, rundt i vores samfund. Det er bare et spørgsmål om tid. En selvkørende og selvtænkende mobil enhed (bil/lastbil/bus/motorcykel etc.) bliver en integreret vores dagligdag. Det sker når forsikringsselskaber, finansieringsvirksomheder og lovgivning skaber business casene. Men der er også andre store udforinger for os i infrastrukturbranchen, nemlig økonomisk lav vækst, radikalt ændret demografi og store klima- og miljøudfordringer knyttet til vores mobilitet
For dig og VEJ-EU betyder det disruption, opbrud og forstyrrelse
VEJ-EU tager afsæt i denne situation og udbyder i foråret 2017 en stor konference med temaet "selvkørende enheder i infrastrukturen", hvor nationale og internationale politikere og eksperter vil give deres bud på den fremtid, der venter dig. Samtidig vil du se VEJ-EU forsat udvikle kompetenceudviklingsprodukter horisontalt og vertikalt til infrastrukturbranchen. Dette er helt nødvendigt for at sikre "state of the art" kompentenceudviklingstilbud til dig og den danske infrastrukturbranche, som er i international konkurrence 24-7.
– At VEJ-EU skal udvikle sig horisontalt betyder, at vi skal kompetenceudvikle dig og andre faggrupper end ingeniører. Det betyder, at vi vil tilbyde kompetenceudvikling inden for infrastrukturområdet i bredden. Det vil sige inddrage andre faggrupper endnu mere f.eks. landinspektører, konstruktører og landskabsarkitekter eller helt andre faggrupper. Konkret betyder det udbud af kurser i f.eks. anvendelse af droner, byggemodning og udvikling af fremtidens infrastruktur i by og landområder samt klimatilpasning af veje og pladser.
– At VEJ-EU skal udvikle sig vertikalt, betyder, at vi skal kompetenceudvikle infrastrukturbranchens fagligheder i dybden. Der er brug for at få dækket de sorte huller, vores danske uddannelsesinstitutioner har efterladt os alle med. Konkret betyder det, at hvor vi i dag tilbyder infrastrukturbranchens bedste driftskurser. Vi vil lige om lidt udbyde en samlet asfalt uddannelse, der p.t. har arbejdstitlen "Asfalt fra A til Z", og at vi vil udbyde f.eks. internationale cykelkurser rettet mod kursister i hele norden i løbet af 2017.
Denne udvikling kommer ikke af sig selv. Derfor har vi valgt at opdele vore kurser i produktområder og knytte et eksternt reviewboard til de vigtigste produktområde. Samtidig er vi tæt dialog med vores kunder. Vi arrangerer fokusgruppe interviews med udvalgte kundegrupper. Vi ønsker nemlig at blive endnu skarpere på netop dine og branchens fremtidige kompetenceudviklingsbehov. Vi kan høre, at der er meget stor efterspørgsel efter den rigtige kompetenceudvikling. Vi ved også, hvad den rigtige kompetenceudvikling skal levere: nemlig medarbejdere og kolleager der kan lave bedre og billigere løsninger til dig og din virksomhed!
Share
About Author