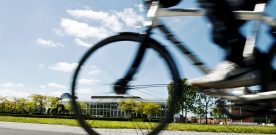 Sammenhæng – hvem sørger lige for det i trafikken?
Af Per Als, A-2 A/S
"Det hele er mere end summen af delene", er kendt, men ofte glemt. Landspolitisk er der således bred enighed mellem trafikordførerne om, at de "skal sætte sig i et lukket rum og først komme ud, når der er enighed" om "fordeling af midlerne", som det blev formuleret på et møde om samspil i trafikplanlægningen, som Business Region Aarhus havde inviteret til.
Aktører som DI, DTL/Danske Vognmænd, Dansk Erhverv og FDM har ellers året igennem slået til lyd for en samlet og langsigtet planlægning af det offentliges trafikpolitiske initiativer. "STYRK MOBILITETEN MED LANGSIGTET PLANLÆGNING" var FDM's udgangsreplik på Venstres trafikpolitiske konference i foråret.
Men skiftende transportministre har afvist ønsket med begrundelser som "at planer ville give håb om gennemførelse af initiativer", og at planlægning alligevel er umulig i en disruptiv tid.
Så er det jo godt, at vi allerede har mange gode veje, lufthavne og baner – ellers ville udsigten til at få dem være ganske ringe.
Der er da heldigvis mange eksempler på, at politikere, teknikere og embedsmænd ser, tænker og handler med udsyn. Men ofte forfalder "vi i sektoren" til at fokusere snævert "på projektet" uden sans for helheden.
Projektarbejde har altid haft denne styrke og denne akilleshæl – projektlederen skulle have klare mål for øje og effektive midler i hånden. Men med det efterhånden bedagede og noget udskældte "New Public Management" er dette tankegods ført videre til hele sektorer heriblandt trafiksektoren.
Med denne lidt bedrevidende indgangsbøn så har jeg til eftertanke listet eksempler i trafiksektoren, som kan illustrere mere eller mindre gode måder at arbejde på.
Gode takter
Rejsekort – der var godt tænkt og tungt udført. Men det lider nu under en tøvende satsning fra ejerkredsen i forhold til udnyttelsen af mulighederne for at skabe tiltro og gennemsigtighed for kunderne.
Rejseplan –  der er godt tænkt og udført. Men der er fare for at sakke agterud ift. andre udbydere pga. en tøvende udviklingsstrategi.
TUS (samarbejde om Trafikinformation baseret på Rejseplandata) – er godt tænkt og godt gennemført med principper og standarder. Men det rigtig store gennembrud udestår pga. manglende økonomisk satsning.
DOT på Sjælland er efter en mildt sagt tøvende start nu øjensynligt på vej i arbejdstøjet.
Trafiktårnet i København, hvor koordineret informationsvirksomhed med deltagelse af DSB, Banedanmark Vejdirektoratet, Movia, kommuner og politiet giver begrundet håb om rigtig gode resultater.
Snæversyn på store tiltag
Men der er også områder, hvor en for snæver tilgang har afskåret for rigtig gode løsninger:
Glostrup – et potentielt knudepunkt for hele Vestegnen, hvor regionaltog, S-tog og letbane kunne spille fornemt sammen med byudvikling. Men ingen aktør(er) har påtaget sig en samlende rolle. Så nu ser det ud til, at der gennemføres en temmeligt begrænset tilretning af Banedanmarks skinner og perroner, at der etableres en letbane med en meget tung og upraktisk linjeføring med en mini-sækbanegård, dobbelt krydsning af Ring 3 og ringe kontakt til busserne – alle dele uden samspil om byudvikling omkring Glostrup Center/Bymidte.
Ny Ellebjerg – aktuelt en meget uoverskuelig station for regionaltog og S-tog, som nu også tilføres en metrolinje. Stationsudformningen med Metroen er på målstregen reddet nogenlunde i land ved et modigt politisk forlig – men nogen egentligt sammenhængende og overskuelig løsning bliver der næppe tale om.
Fjernbusterminal for de private ruter til afløsning fra stoppesteder langs vejkanter omkring Hovedbanegården popper med mellemrum idemæssigt op som valmueblomster – smukke, men de visner, når man søger at plukke dem. Senest afsatte Folketinget midler til en undersøgelse af mulighederne, og en rapport med overkommelige løsninger er udkommet om sagen. Siden er intet sket – og imens vokser fjernbustrafikken støt.
Københavns Hovedbanegård. "Don't mention the war"…
Fælles finansiering. Enkel, fælles finansiering fra interessenter har vist sig effektiv.
Terminalstrategien fra '90-erne gav gode trafikløsninger i samspil mellem DSB, HT og kommuner.
Transportministeriets puljer har løbende givet gode resultater.
Og hvad er så læren af det?
"Det bedste er det godes værste fjende" bruges nogle gange som argument mod helhedstænkning. Men mindre kan altså også gøre det.
I Norge gennemføres en rullende planlægning på nationalt plan, og det relativt nye, tværgående trafikselskab i Stor-Oslo, RUTER, har over de seneste år stået for en imponerende udbygning og kundetilgang.
På den hjemlige front arbejdes der med Business Region Aarhus, med Vision 2035 mellem kommuner og trafikselskab på Fyn og med Trafikcharteret i Greater Copenhagen. Mest konkret er nok arbejdet i Nordjylland, hvor Region Nordjylland, kommunerne og en række andre aktører under Nordjyllands Trafikselskabs ledelse har taget konkret initiativ til samling af trafik/mobilitetsansvaret.
Så lad os ønske hinanden "God Læse- og Arbejdslyst"
Share
About Author